How we helped a customer struggling to obtain Omura grinding stones! (Using Japanese techniques to safeguard manmade grinding stones technology)
Thin, golden bonito flakes are the unseen building blocks to the flavor of Japanese cuisine and they are our cultural asset. Sharply honed blades are required to shave the bonito flakes. Our grinding stones enable long-lasting, sharply-honed edges and improved blade quality.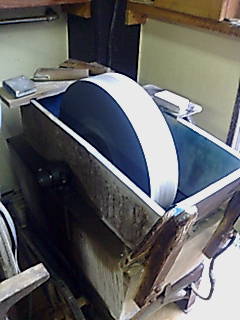 One of our customers recently consulted us about Omurato, a prominent natural grinding stone known for the sharp edges it can produce. This customer is a manufacturer of bonito flakes using blades sharply ground with Omurato grinding stones. Due to a halt in the production of Omurato grinding stones, they asked us if our stones would provide them with a good alternative. Our Sales & Technology group visited their factory to see their Omurato grinding stones and to analyze its grain and hardness. We concluded that our grinding stones would make a fine and suitable replacement.

We first drafted a design and manufacturing plan for the new grinding stone according to the customer's dimension requirements. We also designed the shaft and flange that went with it. Once approved by the customer, we had one month to complete the project. After delivering the new grinding stone, our Sales & Technology group visited the customer to see what they thought of their new grinding stone.
They were very happy with it and so we are now hoping to establish a long-lasting business relationship with them, while incorporating their feedback to better our products.

From this you can see that Nihon Grinding Wheel Co.Ltd. is manufacturing an alternative to the ever increasingly scarce Omurato grinding stone and thus helping to preserve the legacy of Japanese cuisine.
Please consult with us if you are looking for a good replacement for Omurato, or any other natural grinding stones. Our development group will assist you with our abundant experience and knowledge. Your satisfaction is our first priority.