Broadly speaking, grinding stones can be classified into three types.

Grinding

stones

Circular and ring-shaped items, or squared items

Polishing

Grinding stones

Circular and ring-shaped items, or squared items (chiefly the same as a sharpening grinding stones)

Cutting

Wheels

Thin disc-shaped items
We carry grinding stones tailored to both sharpening and polishing, although polishing grinding stones make up the bulk of our coverage area.
While polishing grinding stones may seem to be a unified category, they in fact come in numerous types based on the method of polishing and the workpiece to be polished.
In other words, the grinding stones may differ in its method of manufacture, type of grain, shape, hardness(grade), and other factors depending on the customer's ultimate use case.
On this page, we showcase different grinding stones based on the method of manufacture and features. You can use this information as a guide when choosing your next grinding stones.
By type (method of manufacture)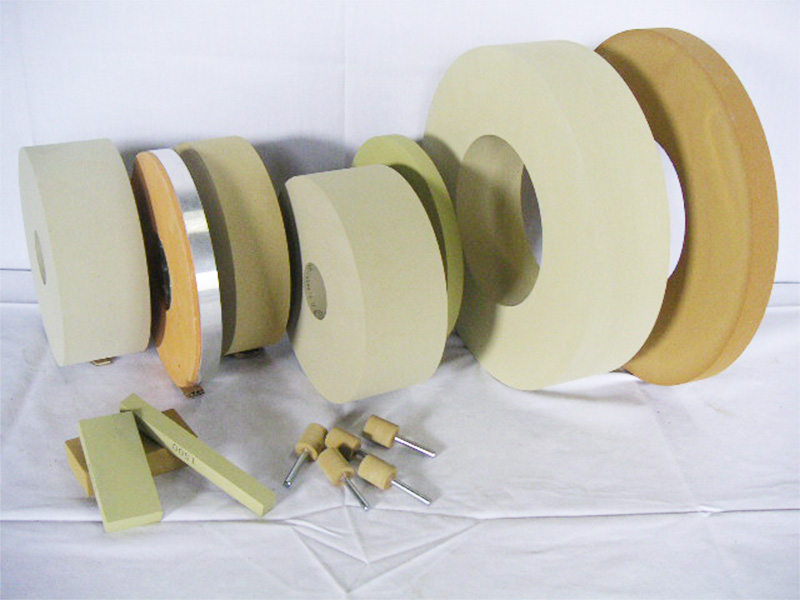 Features
PVA manufacturing involves using a soft resin called polyvinyl alcohol (PVA) as a binding material and firing it at 150°C to 300°C to make a grinding stones. These are commonly referred to as elastic grinding stones and have excellent elasticity.
The resulting PVA grinding stones are highly elastic and porous. This reduces clogging of the grinding stones itself and scratches and chipping of the workpiece. Moreover, using fine grain materials improves the surface finish of the workpiece and achieves a high degree of luster. We can produce grinding stones with a grit up to #10,000. We have two kinds of PVA grinding stones: NKS grinding stones, which offer excellent luster and lapping performance; and NKB grinding stones, which offer level smoothness and good grinding ratio.
Application
Gravure rolls (copper cylinders for gravure printing) polishing
Magnetic head polishing
Wristwatch bands, wristwatch cases, glasses frames
Precious metals and ornaments
Computer magnetic disks and copy rolls
Building materials, stone materials, decorative plates
Stainless steel, aluminum, copper, titanium, glass, stone, rubber, resin, and other soft, difficult-to-cut materials that are prone to clogging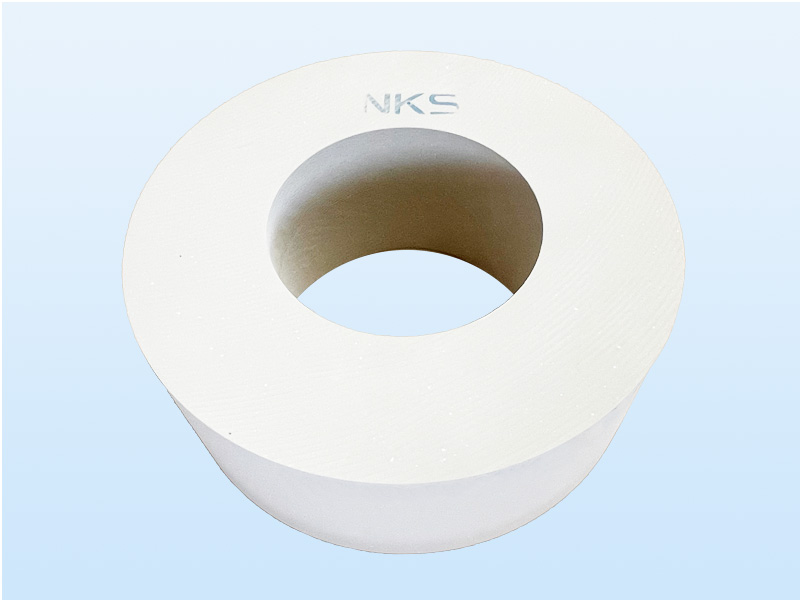 Features
NKS grinding stones utilize a flexible material on the elastic grinding stones to gently polish the workpiece. This results in major reductions in debris, one of the key features of porous grinding stones, and allows for polishing without chipping.
Due to the continuous porous structure of the grinding stones, the grinding stones itself is flexible. In addition, it exhibits low heat generation during the polishing process, and reduces clogging due to its self dressing. By controlling the degree of bonding strength, higher dimensional accuracy is achieved while providing a rich luster and clean surface finish.
One of the most used cases for NKS grinding stones is gravure roll polishing.
These gravure rolls are used for printing items like plastic wrapping, retort food pouches, ice cream lids, shampoo bottles, and other items. Gravure rolls utilize dedicated vertical polishers, and the grinding stones used require a high degree of sharpness and a high grain. NKS grinding stones are ideal for these challenging and precision polishing applications, and are utilized in a wide range of sectors.
Application
Gravure rolls.
Cylinders and mill rolls.
Suited for work on bearings, shims, washers, nozzles, piston pins, etc.
Can also be used with copper, aluminum, stainless steel, titanium, chrome plating, rubber, plastic resin, etc.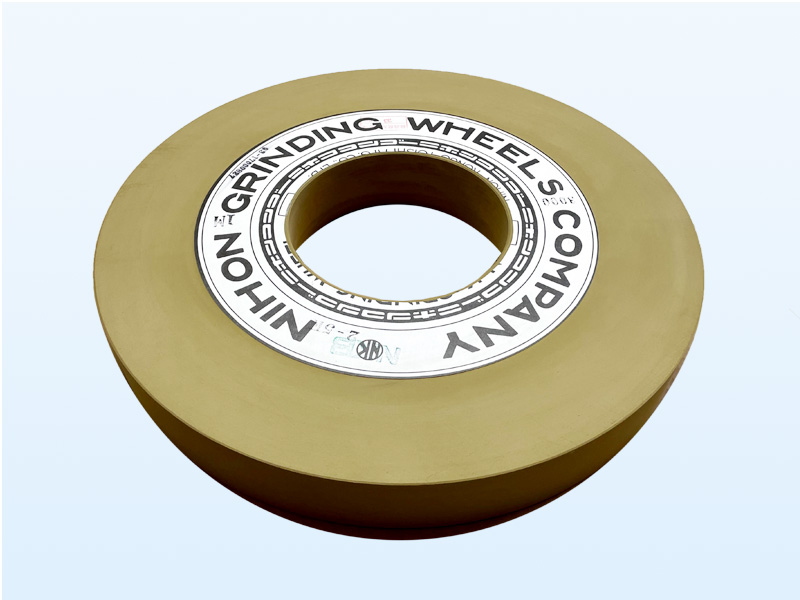 Features
NKB grinding stones are developed based on the fine grain resinoid grinding stones we have manufactured for many years, and enhanced with the latest development expertise. These offer a uniform elasticity and rigid material that allows for greater precision and fine surface roughness.
Using fine-grain abrasives in these grinding stones allows for grinding on surfaces with distortion, surface waviness, or work affected layer, improving polish and roundness.
NKB grinding stones are also ideal for use in magnetic head polishing.
Application
Tape recorder heads for audio equipment, videotape recorder heads, and heads for magnetic card readers.
Injection needles, cutlery and blades, and connectors.
Precision finishing of non-ferrous metals such as aluminum and stainless steel.
Turbine blades and hone cylinders.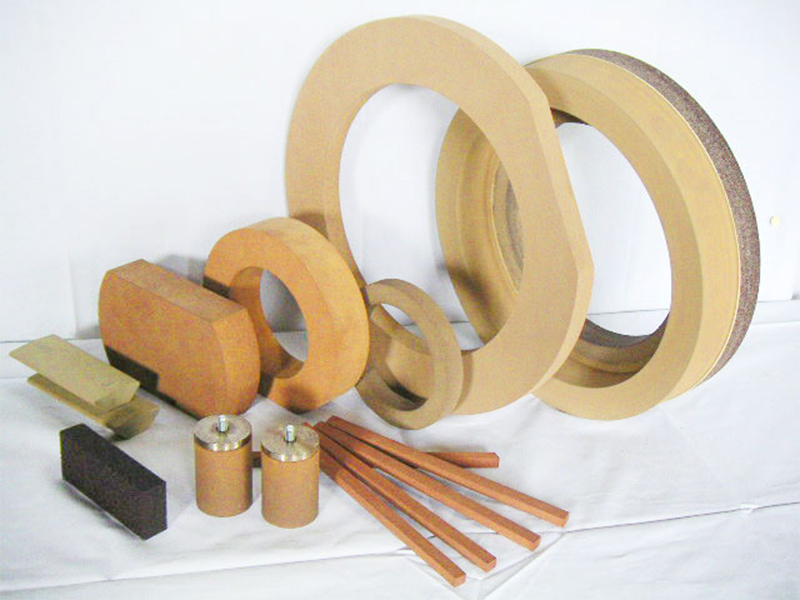 Features
The main feature of this type of grinding stones is its use of synthetic resins like phenolic resins as binders, and that they are fired at low temperatures (approximately 200°C). Therefore, this allows for producing grinding stones using ultrafine powders or mixed abrasives that are typically difficult to combine in vitrified manufacturing, resulting in a product free of deformation. This gives the grinding stones better grinding performance (better grinding ratio and shining finish).
These grinding stones are more resilient to impact and have excellent mechanical durability in terms of tensile, bending, and compressive strength, making them widely suitable for everything from precision finishing to rough grinding.
Application
Grinding stones produced using this method offer good grindability, so they are used for mirror polish finishing for magnetic heads or ferrite cores found in A/V components and card readers. In addition, they are used for surface finishing of optical fiber connectors and other ultra precision finishing.
In addition, because the retention power of the abrasive is very high, it makes it suited to high-efficiency grinding, heavy grinding, high load grinding, and high-speed grinding. The majority of fields relying on rough grinding depend on grindstones manufactured in this way.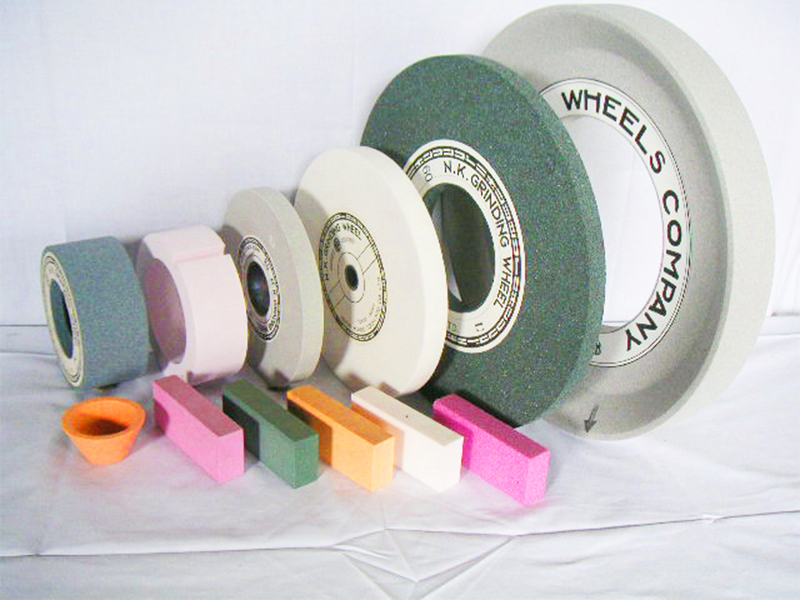 Features
Materials like feldspar and clay are used as binders, with some auxiliary agents added or silicone carbide or fused alumina abrasives being blended together. The material is fired at nearly 1,300°C and maintains strong retention power.
Therefore, it does not degenerate at room temperature, has excellent grinding force and chemical resistance, and can be stored for long periods of time. The hardness (grade) can be easily adjusted within a wide range.
It widely support grits ranging from coarse grain (about #20) to super fine grain (about #4,000), and is suited to applications ranging from general purpose polishing to precision polishing.
In recent years, grinding stones with large pores have been developed. This reduces clogging while grinding, allowing it to cater to a wide range of contexts.
Application
Due to the nature of this type of grinding stones, it is suited to an almost unlimited range of contexts. Not only can it be used for grinding and polishing standard steel, but it also supports tempered steel, superalloys, cast iron, non-ferrous metals, and non-metals, and can be used for diamond tools truing and dressing. Other applications include using the pores as a filter. Many more applications continue to be developed today.
Fine-grain vitrified grinding stones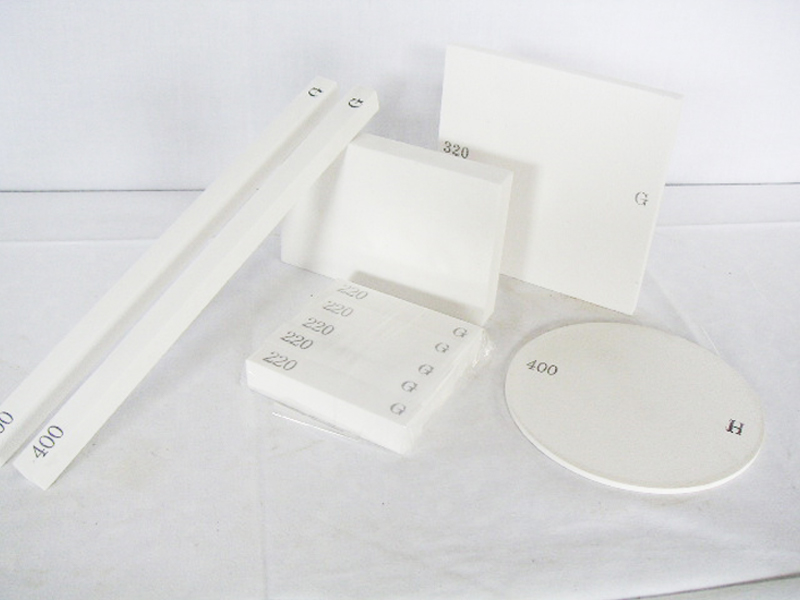 Features
Vitrified grinding stones utilize clay-like bonding agents and are fired at 1300°C to porcelainize them and bond abrasive particles together.
In addition to boasting strong abrasive retention, vitrified stones make it more easy to control the porosity and remove debris. They also offer high rigidity, making them better tailored to precision dimensions. In all, this makes them well-suited to a range of grinding work. The majority of grinding stones are vitrified, as this accommodates the grinding of components chiefly used in metal machining in the automotive industry, steel industry, shipbuilding industry, and other sectors. Given that these uses require a certain degree of grinding ratio, many of these grinding stones tended to be use relatively coarse abrasives. However, advances in machining precision in recent years have led to vitrified grinding stones which employ medium or fine grain abrasives.
Fine-grain vitrified grinding stones are grinding stones made using fine-grain conventional abrasive. Due to rapid advances in IT technology, the demand for thinner silicon wafers for semiconductors is growing as a means of improving their performance and making smaller and lighter semiconductors. This has led to more fine abrasives being used in diamond and CBN grinding stones. However, maintaining the lifespan of the stones (diamond and CBN) and increasing efficiency in turn requires proper dressing and truing. This now calls for fine-grain conventional abrasive vitrified grinding stones with high rigidity (more tailored to dimensional precision) in order to true and dress the stones (diamond and CBN).
Application
Dresser for Diamond and CBN tool.
Air stones such as mist stones and CO2 stones.
Filters for gas analysis.
Finishing and polishing of bearings, axles, cylinders, camshafts, nozzles, etc.
Polishing stones for magnetic heads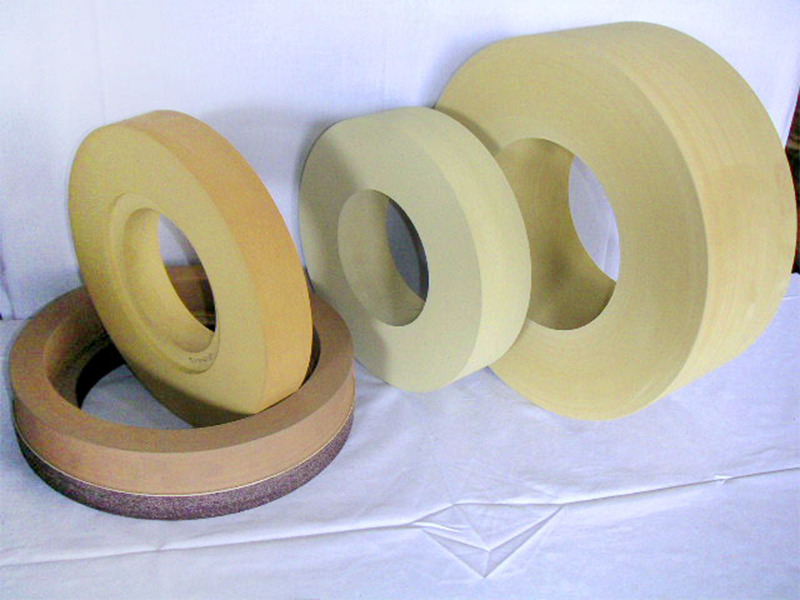 Grain
#150-#6,000
Manufacturing method
Vitrified, resinoid, and PVA
Application
Grinding and mirror polishing of cores and heads used in videotape recorders, audio equipment, card readers, etc.
Features
Compatible with most materials and composites, and ideal for high-precision polishing
Polishing stones for gravure rolls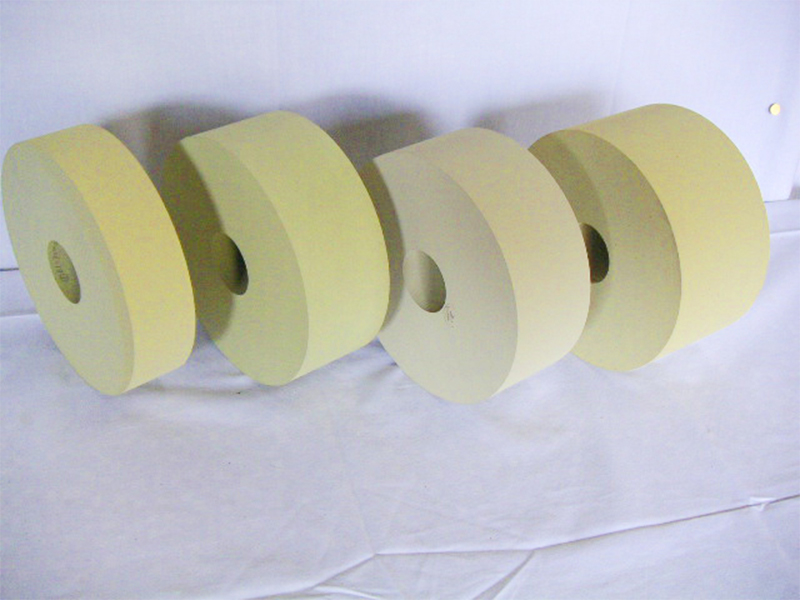 Grain
#150-#6,000
Manufacturing method
Resinoid, PVA
Application
Used for grinding copper-plated rolls and glossy surface polishing and removal of used plated copper
Features
Excellent grinding, high precision finishing, and excellent life span
Grinding stones for high-precision finishes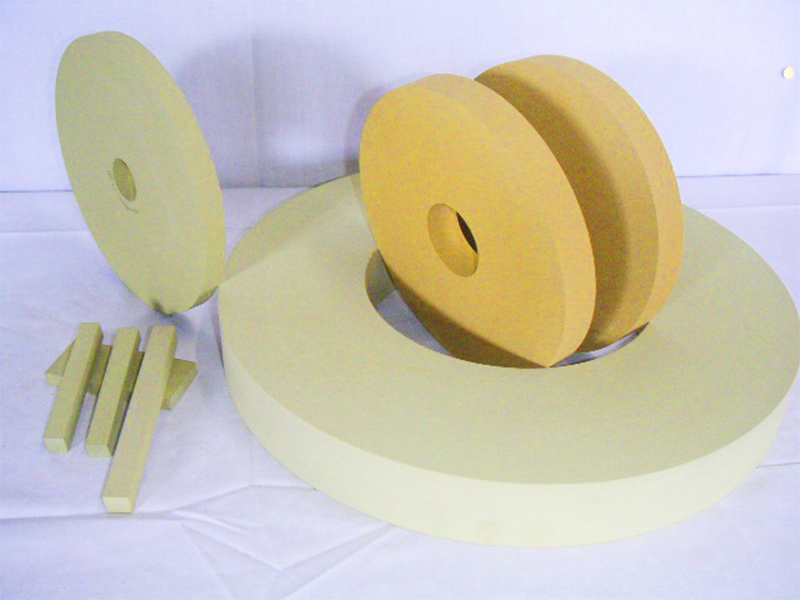 Grain
#220-#10,000
Manufacturing method
Resinoid, PVA
Application
Ideal for polishing high-precision items made from metals and non-metals In terms of non-metals, it accommodates polishing of items like lenses, stone, plastics, optical fiber connectors, etc.
Features
Exhibiting a uniform elastic structure, this type offers great machining accuracy and outstanding surface roughness, with minimal clogging, and imparts a lustrous mirror finish. We can adapt the size and formfactor to your particular needs.
Dressers for Diamond tool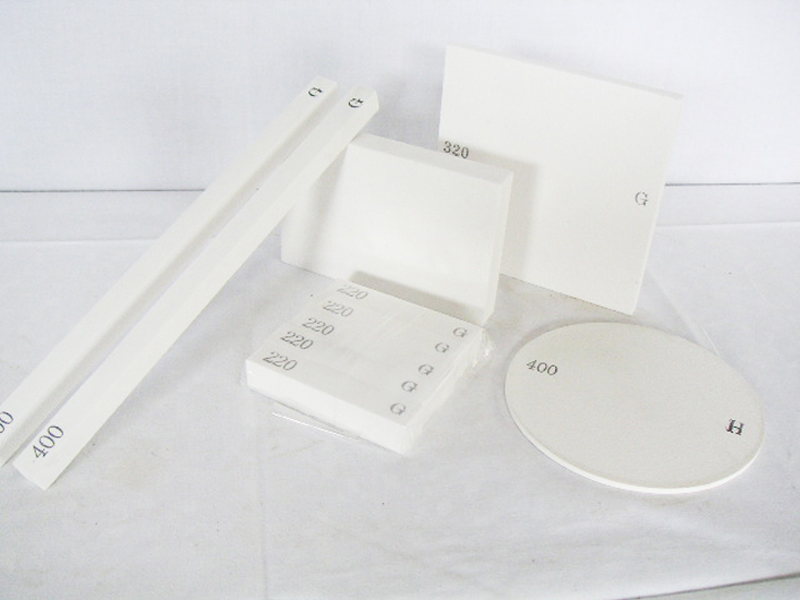 Grain
#80-#4,000
Manufacturing method
Vitrified, Resinoid
Application
Ideal for dressing and truing of diamond and CBN tools using metal bonds, resin bonds, etc.
Features
We can rapidly accommodate a wide range of requests from clients for grain size, hardness(grade), dimensions, shape, and more.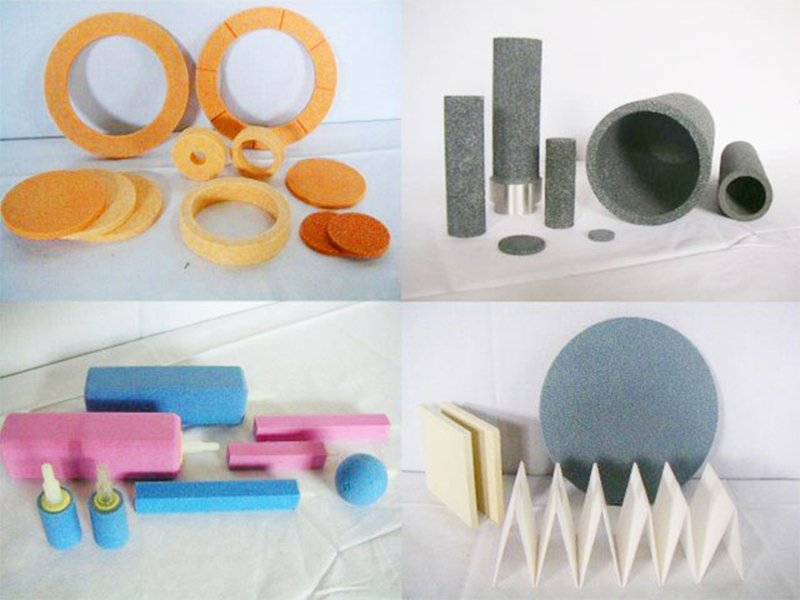 Grain
#36-#1,000
Manufacturing method
Vitrified
Application
Can be used in a wide range of contexts with different filters, for gas analysis, water testing, soil testing, porous chucks, air stones, and mist stones
Features
Maintains uniform texture and ensures stable performance irrespective of hardness or shape.
Feature on filters
Grinding stones for honing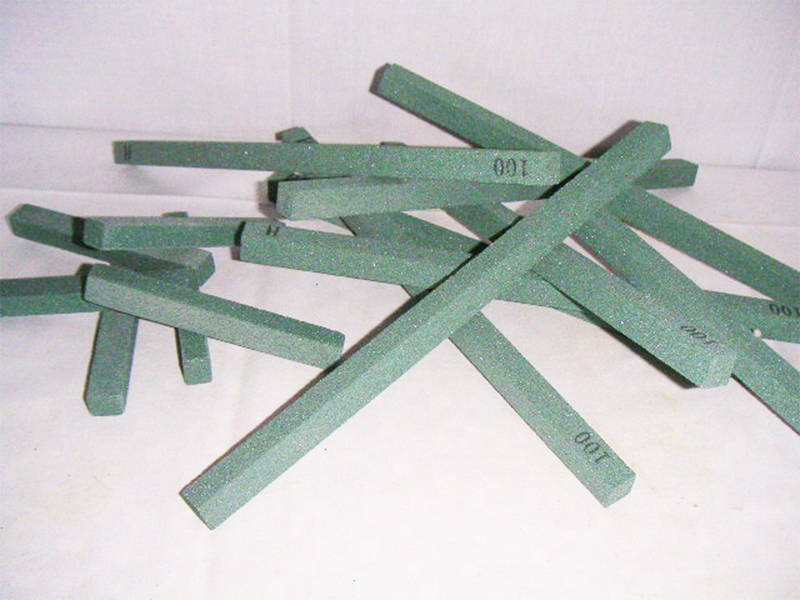 Grain
#36-#800
Manufacturing method
Vitrified
Application
Internal grinding of cylinders
Features
Can be designed around the material and processing fidelity needs of the workpiece
Polishing stones for soft metals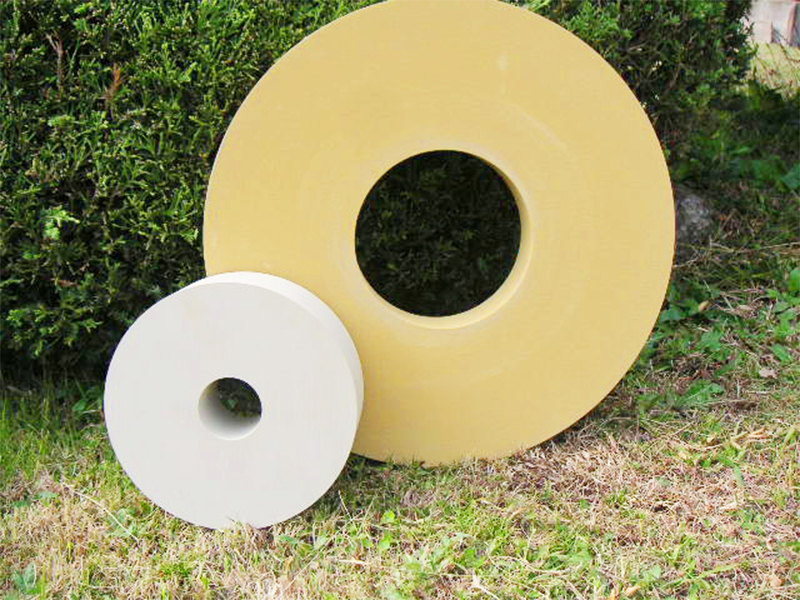 Grain
#36-#6,000
Manufacturing method
Vitrified, Resinoid, and PVA
Application
Used for grinding and polishing machined parts such as those made from aluminum, copper (including brass and gun metal) and stainless steel
Features
By carefully controlling the grain size ,hardness(grade) and structure of the grindstone and employing a porous structure, it does away with the adhesion typical of soft metals and ensures clog-free and smooth grinding and polishing.
Polishing stones for non-metals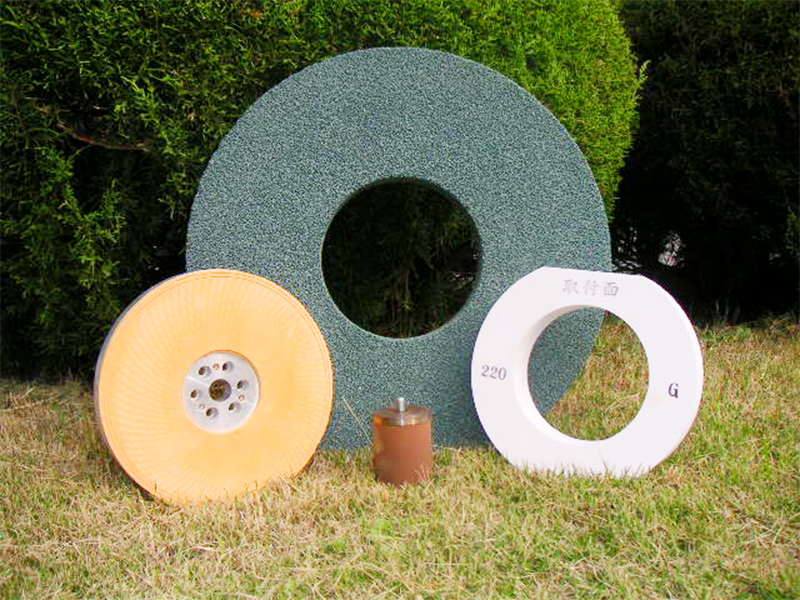 Grain
#46-#2,000
Manufacturing method
Vitrified, Resinoid, and PVA
Application
Ideal for grinding and polishing non-metals like resins, rubbers, glass, and stone.
Features
By leveraging our expertise to the fullest, we have succeeded in overcoming clogging, which is a perennial flaw associated with grinding and polishing. This solution ensures more long-term, stable work. This eliminates defects like tearing, burn-in, chipping, and other damage to the workpiece surface, producing a smooth and even finish.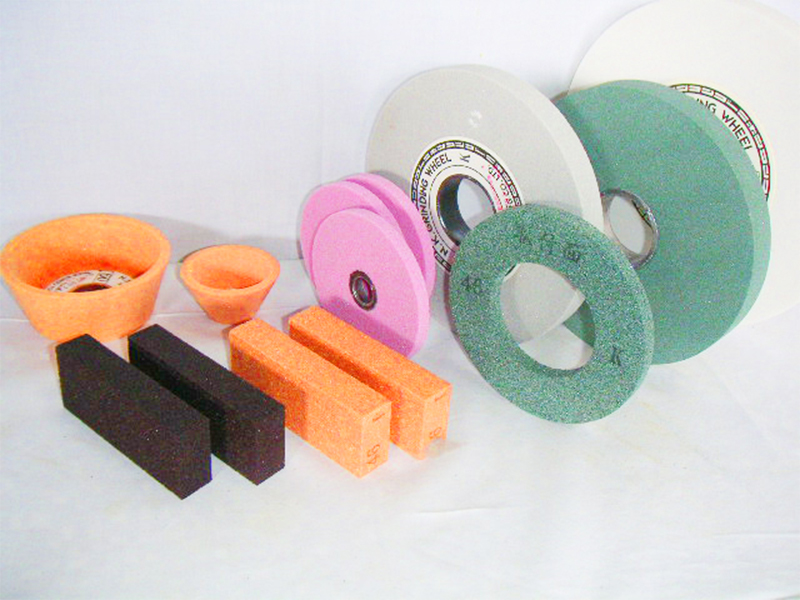 Grain
#36-#150
Manufacturing method
Vitrified and Resinoid
Application
Allows for cylindrical grinding, surface grinding, centerless grinding, internal grinding, and other free hand grinding applications.
Features
Allows for calibrating type of abrasive, grain size, structure, and hardness (grade) to the best conditions to achieve grinding performance tailored to the workpiece.
Grinding stones for heavy grinding and rough grinding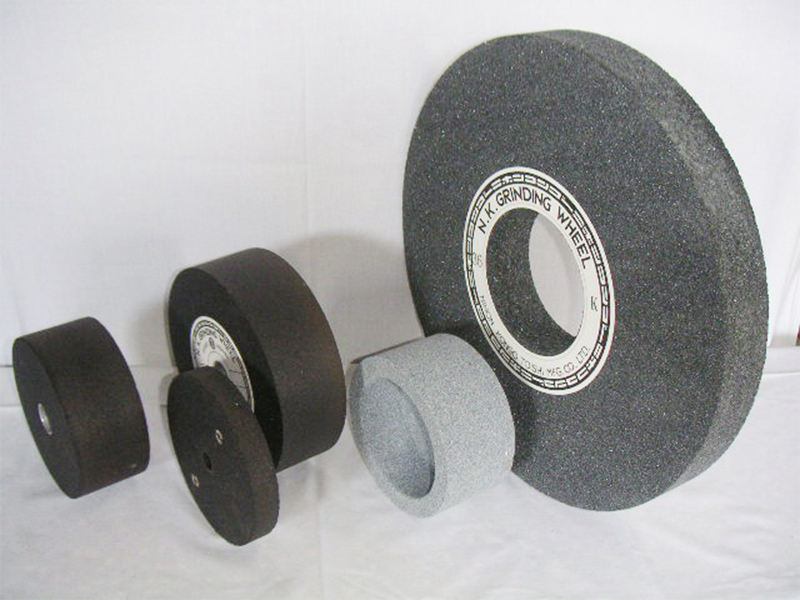 Grain
#24-#60
Manufacturing method
Vitrified and Resinoid
Application
Suitable for deburring, forming, and rough grinding of steel
Features
Chiefly used for vitrified grinding stones and resinoid grinding stones, which offer high performance and high grinding ratio